GOGO design group was hired by a lovely couple from Lake Forest, Illinois to create their new lake home in Arden Hills, Minnesota. The house is perched on the banks of Lake Josephine, one of Minnesota's many majestic Lakes. Their goal was to transform an older home into a soulful waterfront retreat, located near their children and grandchildren. The original home was built 20 years ago and needed some serious design and construction TLC. Together with Minneapolis' Greg Eibensteiner, and my passionate team of Chicagoland resources plus a talented new group of Minnesota vendors and suppliers, we worked miracles around the existing wood floors and ceilings. We completely gutted and rebirthed a serene and tranquil environment where their family and friends now gather, recharge and celebrate life.
Designing this home for our client presented us the opportunity to dig deep and discover her evolved personal design-style. Their previous home in Lake Forest was created in the traditional style, and her goal was to mix in some of that flavor into her cultured classic contemporary style. The result is an eclectic mix of the old and new, with a dash of exotic spice.
Drama, "symmetrical" asymmetry, and a tranquil vibe invite you to experience the Great Room Lounge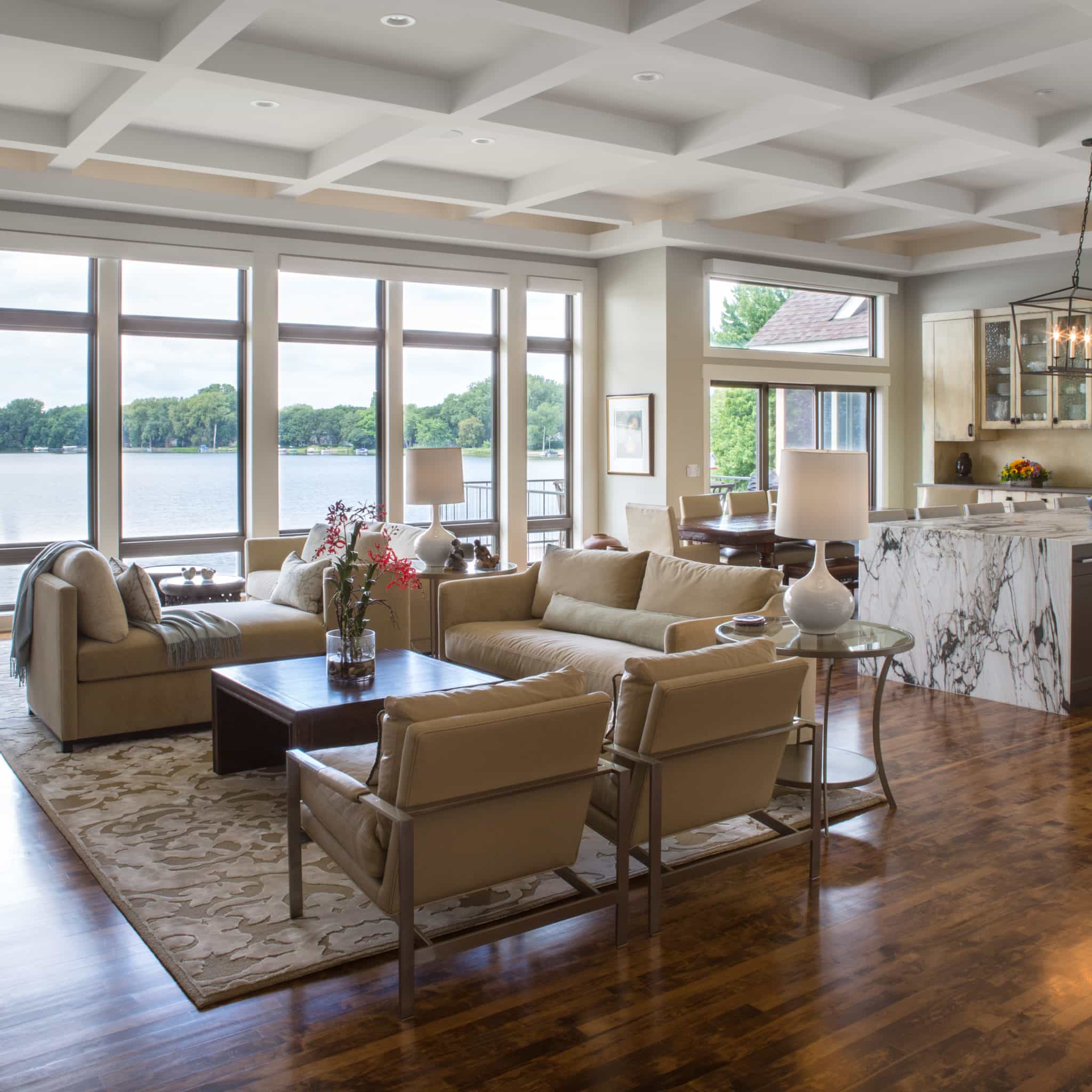 The Great Room's focal point is a soaring fireplace, yet this area serves two functions – a TV viewing area and a quiet place to put your feet up and enjoy the fire while reading, or simply enjoying the warm energy it emits. Separated into two seating zones by a chaise lounge, the space evokes a sense of symmetry as you view it from the Kitchen and Dining Area.
A Kitchen and Dining Area that inspire mindful cooking and entertaining
The dining table blended with our client's desire for a more contemporary flair served as inspiration for the Kitchen and Dining Area. Two focal points exist in this area – the 7′ tall custom-designed built-in storage unit in the dining area, and a magnificent 11′ long honed marble, waterfall-wrapped kitchen island. The primitive style built-in cabinetry was finished to relate simultaneously to the traditional elements of the dining table and the clean lines of the cabinetry in the Kitchen Area. The result is an eclectic contemporary vibe filled with rich, layered textures.
The Kitchen Area was designed as an elegant backdrop for the three focal points on the main level open floor plan. Clean lined off-white perimeter cabinetry and a textured, North African motif patterned backsplash frame the rich colored Island, where the client often entertains and dines with guests.
A Master Bedroom Suite that offers a dreamy and exotic experience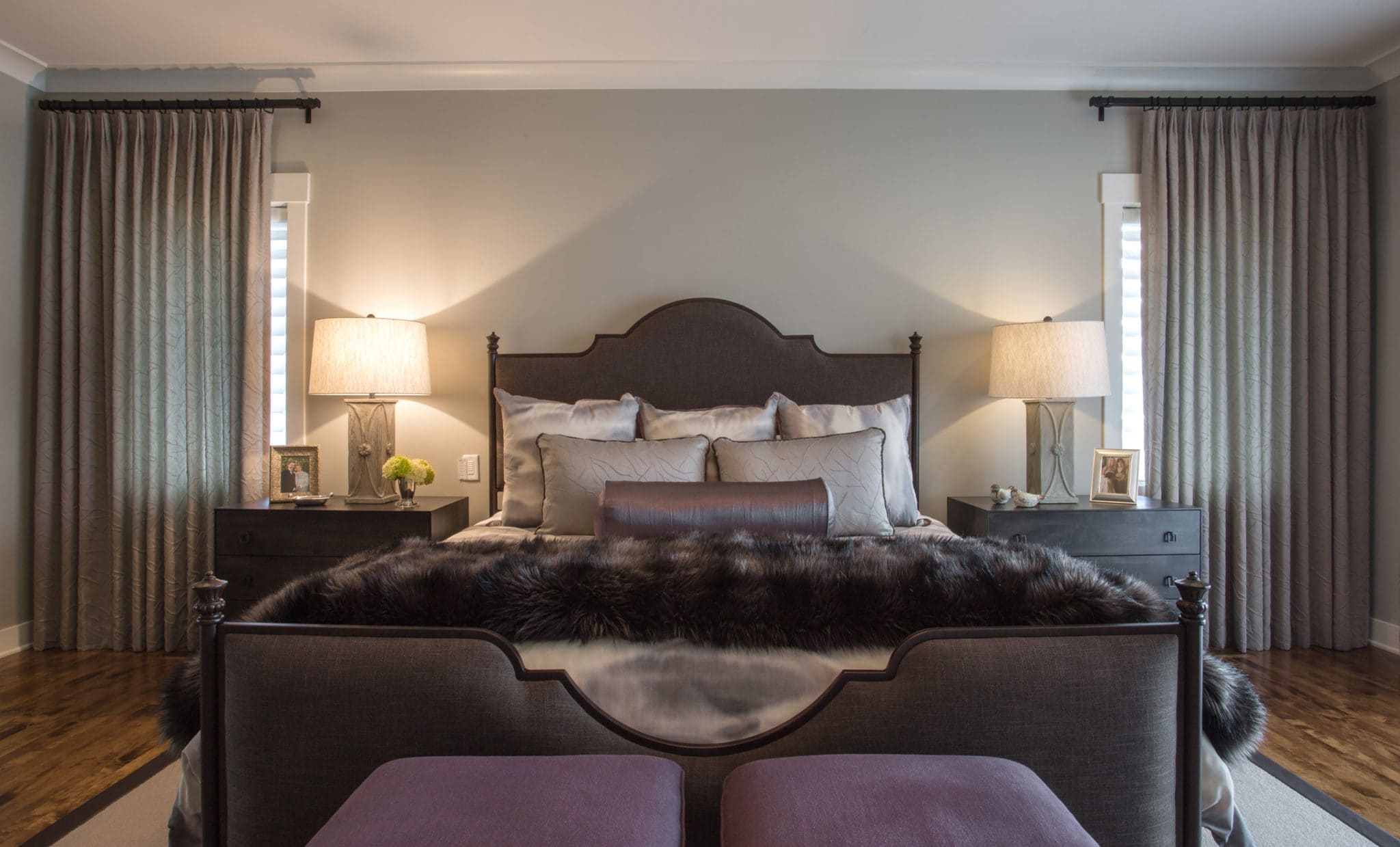 The Master Bedroom Suite serves as the couple's exotic oasis located at the end of a short hallway adjacent to the main living area. A muted steel gray/purple color palette and fabrics rich in texture and tonal patterns create a dreamy and tranquil world. The tiled feature wall in the Master Bath is a dramatic backdrop for an organic shaped contemporary tub and floating cabinetry. Varied texture rules here, as both matte and polished finishes and cotton/wool textiles joyfully play interactively.
The swanky Lower Level promises fine wine and entertainment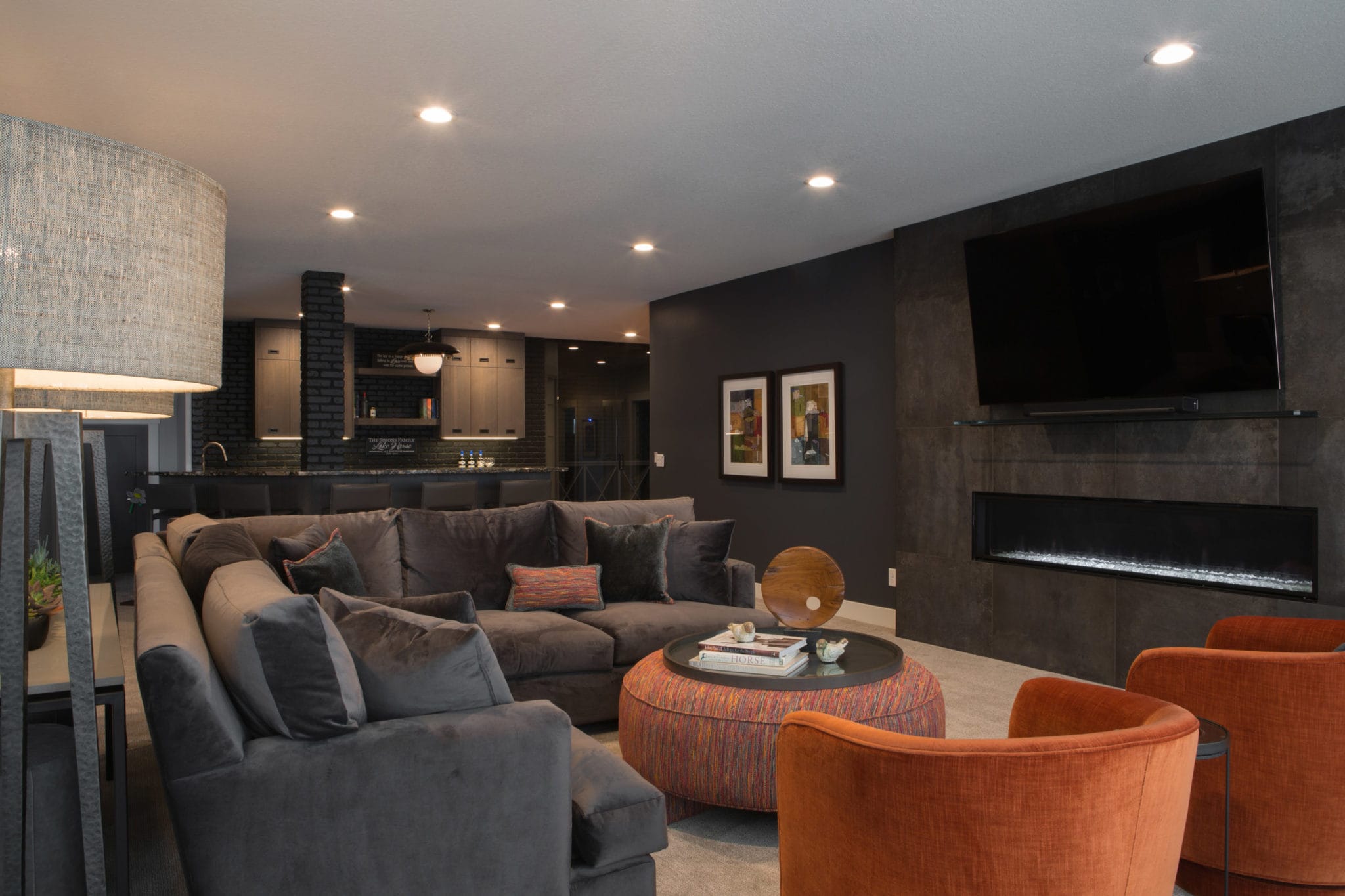 The Lower Level contains the couple's wine cellar, as well as a fully equipped bar where they can savor wine tastings, cocktail parties and delicious meals while enjoying quality time with family and friends. The existing concrete floors were sprayed a rust color adored by the Lady of the House, and served as the color inspiration for the rust/orange swivel chairs in the TV viewing area. Two dramatic floor lamps flank a console table and divide the TV viewing zone from the nearby pool table. I can't wait to see my client again soon, not only to put the finishing touches on their home's transformation, but to break bread and share a cocktail, as we have become close during the past 21 months with our many flights to and from Chicago to Minneapolis.
We have completed many lakefront and waterfront homes and these projects are especially "close to my heart". They allow us to combine the world's natural beauty with beautiful design to create the ultimate vision of design well-being.
Photos by Jill Buckner Photography.