Cr
e

ating spac

e

s that n

o

urish th

e

s

o

ul.
F
e

atur

e

d In:
H
e

alINg Mind, B

o

dy & S

o

ul

At GOGO Design Group, we don't just design living spaces, we heal them with our passion and joy for creating spaces that nourish the souls who dwell in them. There is endless beauty and inspiration in the world for us to choose, and this often feels overwhelming and stressful. Surrender your overwhelm and stress to us – we will decipher what kind of beauty speaks to your heart and together we will create the uniquely sacred home you need as a respite from the outside world – an oasis that soothes your senses and uplifts your spirit.

GOGO Design Group is based in Skokie, Illinois yet, we travel and love exploring new locales. We're still dreaming of working abroad!
Int
e

ri

o

r D

e

sign S

e

rvic

e

s

GOGO Design Group provides interior design services to support any size transformation project. Whether you need assistance with building your home from scratch to designing any number of spaces in your home, GOGO Design Group offers the interior design expertise and tools to help bring your vision to life.
SERVICES INCLUDE:
New Construction and Renovation Consulting
Interior and Exterior Color Consulting
Interior Space Planning
Furniture Layout
Home Decor and Furnishings Selection
Art Consultation
Finish Selection
Window Treatment Design
Furniture Design
Lighting Consulting
Home Staging Services
Project Coordination Services
With a commitment to open communication and collaboration, GOGO Design Group encourages involvement and dialogue to deliver an approachable and enjoyable design experience from beginning to end, ensuring that each client feels involved, excited and understood at every step.
R
e

b

e

cca P

o

g

o

nitz, G

O

G

O

D

e

sign Gr

o

up

Rebecca's passion for design and culture began as a child, as she visited art museums and galleries with her mother, an art historian. Her exposure to interiors and fine art sparked a passion for exploring the ways that shape, texture, color and composition evoke an emotional experience. This interest in aesthetics and design led her to earn a BFA at Chicago's International Academy of Design and Technology.

In 2001, Rebecca founded GOGO Design Group to serve residential design clients in the Chicago area and throughout the Midwest. Rather than being recognized for a particular design style, she is known for designing spaces that are uniquely tailored to each homeowner's preferences and daily lifestyle, resulting in rich, layered spaces that will embolden, energize and delight them for years to come.

With honesty, integrity and trust at the core of how GOGO Design Group operates, Rebecca provides valuable insight, design expertise and personal attention as the unique vision for each client's home is brought to life.

Rebecca speaks often on design-related topics at consumer education events and B2B design/build conferences. Her work has been featured in Chicago Tribune Magazine, Design Chicago, and on Houzz and HGTV.com.
T
e

stim

o

nials

Rebecca worked with us in early 2017 to orchestrate a significant renovation to our town home. Not only were we thrilled with Rebecca's design sensibilities, but we felt she really joined us as a team member and advocate in our effort. She was patient, thorough, practical, and really listened to and understood our priorities. At every step, she was willing to "go the extra mile" to help us get a fantastic result. She took the time to get to know us and our tastes, but also brought fresh ideas to her design process. We're thrilled with the result and would… Read more ""
Jen K.
Rebecca is considerate, thoughtful, ethical, dependable, caring…and a great designer! She did an amazing job guiding our decisions while still giving us room to make choices and shop around. She also didn't hesitate to speak up for us when issues arose with vendors, contractors etc. Her main focus is making her clients happy in a very sincere way and that truly does shine through in her work. We are so happy with the way our house came out and the overall design experience with Rebecca!
Gittel Kanter
Love GoGO Design! We recently purchased a new house. It's a great house for our family, but quite frankly, I was not in love with this home. And I was completely overwhelmed with the thought of picking paint and furniture as we moved to a much bigger space. Rebecca has helped us through every aspect of our light renovation project (paint, furniture, lighting, etc.). Honestly, I have been stunned (in a great way) by her work. After meeting with her for only about an hour, she found paint colors that perfectly matched our family vibe. She's created a warm and… Read more ""
Suzanne C.
In my house, we say, "Rebecca is always right." Since the beginning of our project, Rebecca has shared with us many ideas that were new to us, some of which we had never considered before, and a few of which we had to stretch our comfort zone to try. In each case, when we went ahead with her idea, we were super happy, and when we didn't go along with her idea, we ended up coming back to it and doing it later. She's awesome and we really enjoy working with her! We have worked with her for about 9… Read more ""
Olivia L.
I began working with Rebecca Pogonitz from GOGO Design Group in September 2015…I immediately was taken with her great personality and excitement for decorating…What I instantly loved was her honesty as well as great ideas. She got me excited with what she was saying…She has a phenomenal eye for decorating and color. She even designed things to fit our needs…I totally trusted her. How could I not with her great smile and bubbly personality. I love every thing we have done…She was completely honest, and incorporated some of the larger pieces I had…She was very respectful of my budget…I loved… Read more ""
Robin G.
Rebecca with GOGO Design Group has been a dream to work with! She has helped us design and furnish our 4,200 square foot home from scratch. We worked in phases and have found her to be professional, prompt, and extremely flexible. She really listens to your vision and guides you in creating a space that is "you" and not something that is pushed or forced upon you. She has an exceptional eye for colors, fabrics, and textures. She is also just fun to be around! I can't say enough about her and highly recommend her services!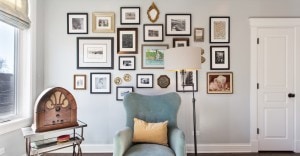 Erin E.
Rebecca did an incredible job with our condo! We expanded an existing condo by buying a unit next door and Rebecca understood our vision and was able to transform the 4,000 sq ft space into our dream home! She is so talented, professional, responsive and patient. Rebecca was able to work with all our diverse contractors as well as within the limitations of remodeling a condo. She was truly a pleasure to deal with and I would highly recommend her in a heartbeat.
Natasha V.
For more testimonials from our happy clients, visit our Houzz page here.
S
e

l

e

ct

e

d Pr

o

j

e

cts
S
e

l

e

ct

e

d H

o

t Tips
Lat
e

st fr

o

m R

e

b

e

cca